YouWave Emulator Requirements for Windows Android
YouWave Android Emulator will allow you to run Android apps and app stores on your Windows PC. YouWave runs Android apps on your Windows PC by creating a virtual Android environment inside Windows. The entire computing world is turning mobile after the advent of smartphones. These smart mobile devices perform many computing tasks that large PCs do. It is little wonder that mobile computing spread like wildfire.
These smart mobile devices are powered by new types of operating systems of which Android OS is the most prominent among all. Although YouWave has been specifically designed as an emulated environment to run Android apps, sometimes the transition doesn't always come off that well. The number of mobile apps has grown exponentially across various niches.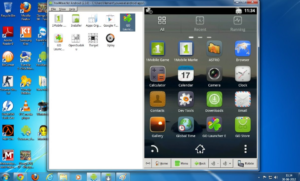 However, many people are still used to running apps on their PC and would like to use their favorite mobile apps on their desktops or laptop computers. Youwave provides the solution to run Android apps on your PC without a phone. With this application, you can access various app stores to download, install and run multiple Android APK without a phone. The application is easy to use, all that is required is to install it on your PC and then import the existing apps on your phone or install new ones and start running the Android apps on the computer.
Features of YouWave Android Emulator
Youwave offers optimum performance.
It enables users to download diverse kinds of Android applications on your Windows PC and Mac.
Youwave Android Emulator is compatible with 2.3 Gingerbread and 4.0 IceCreamSandwich.
The Android Emulator enables you to rotate your screen.
It allows you to play Android multiplayer games from your Windows 10 PC or Laptops.
The application provides dynamic rotation as well as the volume control button..
It will let you test the Android app on your computer.
You can access multiple websites directly within the Android Emulator.
You can control the application through a keyboard, mouse, and touch screen.
Price is 19.99$ (confirm it from its official website)
It supports Android 4.0.4 i.e ICS.
It supports ARM as well as non ARM apps.
You can have a multiple screen size of this edition of You wave emulator.
This Edition also supports international language for keyboards.
This edition includes the feature of sharing data from PC to Emulator.
You can easily connect to proxy for accessing the internet as well as for downloading apps.
This edition also supports the user-friendly backup of the data.
Once purchased, it can be used by multiple users.
| Pros | Cons |
| --- | --- |
| The system requirements for running YouWave aren't very high. YouWave works with 32 and 64-bit Windows editions. The interface is easy to navigate. Use YouWave to download and run Android apps; use YouWave to enjoy the Android mobile OS on your Windows-powered PC. YouWave is available as a Home and as a Basic version. | Trial limitations: 10-day trial, nag screen. |
System Requirements for YouWave Android Emulator
Minimum System Requirements
Intel Pentium 1.6GHz CPU, 2.0GB DRAM, 500MB disk space,
Windows XP, Vista, Windows 7, Windows 8, Windows 10.
Premium version requires Windows 64 bit and VT-x support in CPU (usually can be enabled in BIOS).
The minimum system requirements for running YouWave are 1.6GHZ processor, 1.5GB of RAM memory, 500MB of free disk space. YouWave works with 32 and 64-bit Windows editions, any version from XP onward. Please note that YouWave is an Android emulator based on VirtualBox. If VirtualBox is installed on your Windows PC, you can install YouWave only on Windows guests, not on host machines. If VirtualBox is not installed on your PC, don't worry about it. Just download an installer, run it, and easily complete the installation process.
Read More: GameLoop Emulator System Requirements for Windows & Mac [2021]
Product Limitations
Apps that require hardware sensors, or use closed source APIs, are not supported.
Some applications are not officially supported by their vendors on platforms other than phones.
The CPU must have Intel 2.34 GHz or higher.
1500MB disk space is required.
Your computer must have 2GB RAM but 4 GB or higher is recommended.
The Premium version of the Android Emulator needs Windows 64 bit as well as VT-x support in CPU.
Latest Graphics Card Drivers and Good internet speed are also an essential requirement.
Latest Versions of YouWave Android Emulator
| Versions | Released Date |
| --- | --- |
| YouWave Android Premium 5.11 | 10 May 2018 |
| YouWave Android Premium 5.7 | 27 Jan 2017 |
How to Download YouWave Android Emulator
YouWave is a piece of software that lets you try out apps for the Android operating system on your PC via Android OS emulation. Using this software, you can play mobile games that were meant for Android directly on your PC. It also lets you try out social apps and other software for the Android before you actually install it on your physical Android device.
There are several other apps on the market that do the same thing YouWave does, including Andy OS and BlueStacks App Player. When you take advantage of one of these apps, you'll be able to preview both the functionality and aesthetic of any app through the desktop system before the software is transferred to the mobile device.
In the home version of YouWave, you'll get support for Android's Ice Cream Sandwich OS instead of the newest KitKat version. If you have an SD card reader hooked to your PC, the system can use that card to create a virtual SD card for the emulated Android device. The software also includes individual volume controls, dynamic rotations, and online multiplayer support.
Read More: LDPlayer System Requirments – How to Install LDPlayer?
Installation of YouWave Android Emulator
Steps 1: Download Youwave Emulator.
Step 2: Install You wave on your PC, but before installing this, uninstall Virtual Box if it is installed in your system.
Step 3: Now run the You wave emulator and wait until it completes the booting of Android OS.
Step 4: After that, you will find the Android interface in Youwave emulator as shown below.
Step 5: For installing the android application in the emulator just go to the menu which is at the top of the screen.
Step 6: In the application menu, click on the first most app i.e. Browser and type "https://play.google.com/".
Step 7: Log in with your google play username and password and search the name of the application in the play store. search app name Install Android Apps on PC Using YouWave Emulator.
YouWave Android Emulator Setup
First, you'll need to uninstall it if you have VirtualBox installed on your PC, you'll need to uninstall it before installing YouWave.
The installation process for YouWave works like any other program and is relatively simple. Just follow the install wizard prompts and you'll be good to go in no time.
YouWave FAQ's
What is the YouWave app?
YouWave3.31. YouWave will allow you to run Android apps and app stores on your Windows PC. YouWave runs Android apps on your Windows PC by creating a virtual Android environment inside Windows.[/wps_faq]
How to use Youwave in place of Android Emulator?
]run the command prompt in windows by typing "cmd" in the search field of the start menu, change the directory to "platform-tools" in your SDK folder. For example, suppose that your SDK is located in "c:\android\source\sdk\" use the command "cd\android\source\sdk\platform-tools" for changing the current directory. Run the following command for connecting YouWave to AndroidStudio: "ADB connect 127.0.0.1:5558"
Read More: Phoenix OS System Requirements – How to Install Phoenix OS?
How we can increase YouWave emulator memory?
Open file "youwave_vm01.xml" in "users/UserName/.Virtualbox/Machines/" and find the tag "Memory RAMSize="256″ …" in it and change the RAMSize. Youwave For Android in a remote desktop environment using thin client, Try this and start again the YouWave, Go to Start > Run (or press Windows + R), Copy and paste the bold text to the dialog box: %USERPROFILE%\.Virtualbox\HardDisks, Delete or rename youwave_vm01.vdi, Copy and rename youwave_vm01_golden.vdi to youwave_vm01.vdi, NOTE: youwave_vm01_golden.vdi is a clean Android installation, keep a copy at all times.