LDPlayer System Requirments – How to Install LDPlayer?
LDPlayer is a unique android OS emulator that is fully determined on providing you with one functionality – flawless running the most recent and popular Android smartphone games directly on your PC. Optimized with great things to take full benefits of your PC hardware (such as much stronger CPU, GPU, Storage, and RAM hardware than on any portable Android device), and with great things taken to provide perfect compatibility with the latest gaming titles, the app represents the best way you can transform your home PC or laptop into a gaming machine that runs the latest mobile software.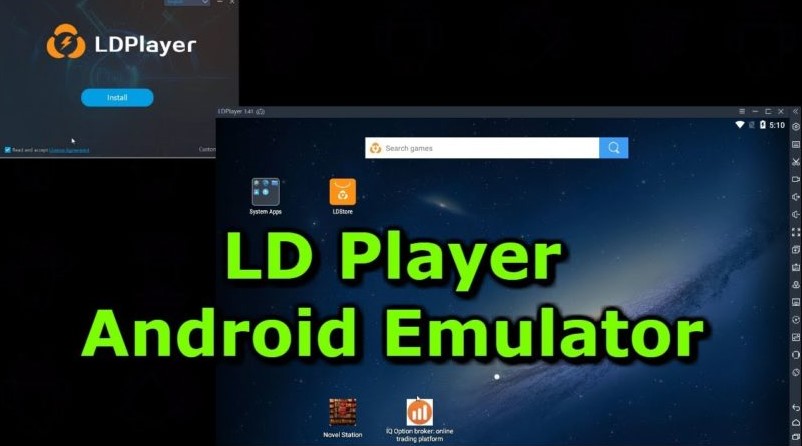 In addition to an excellent experience in handling the latest gaming titles, LDPlayer Emulator also prides itself on its full online compatibility. You can play both solo and multiplayer games on your device, like a Call of Duty Mobile, PUBG Mobile, Clash of Clans, Clash Royale, Brawl Stars, Arena of Valor, Free Fire, etc, with very good latency and bandwidth speeds that are offered by your landline connection to the online world.
As proof of the capabilities of such an emulator, several mobile game publishers have elected to use this emulator to offer their mobile games as a native PC product. One of the finest examples of this is the cooperation between the app and Tencent which resulted in the release of the gaming mobile version PlayerUnknown's Battlegrounds on PC.
Read More: Windroy Emulator System Requirements – How to Install Windroy?
Features of LDPlayer
Highlighted Features
World's best gaming Android emulator
Stable and smooth operation
Perfect Compatibility
Streamlined Experience
Highly configurable
Built-in custom mapping and macros
Available both on desktops and laptops
100% FREE
Technical Details
| | |
| --- | --- |
| Latest Version: | 4.0.27 |
| File Name: | LDPlayer_4.0.27.exe |
| MD5 Checksum: | CE5862CA782FBC7AB86FA15475A6A7F3 |
| File Size: | 412.19 MB |
| License: | Free |
| Supported OS: | Windows 10 / Windows 8 / Windows 7 |
| Author: | Shanghai Changzhi Network Technology |
A native gamepad support feature has also been incorporated in this emulator. For that reason, if you love playing games using a controller, you can simply connect it to your PC and subsequently, in the title bar, click on the icon of the gamepad for the setting up of your gamepad on the emulator for gaming.
This emulator comes with an in-built operation synchronizer, which is important for allowing you to perform operations that are synchronized on different emulators at the same time. As a result, it is possible to launch the same mobile device app on different emulators. This is a feature that will come in handy for people that want to test apps under different conditions.
Works Without Any Special Configuration/Installation
This emulator works right out of the box. While it launches as a tablet that runs on an Android 5.1 system, still it is possible to implement customizations easily. You can customize the network settings, screen resolutions, shortcuts, etc. from the settings icon located in the side-bar. If you do not prefer the tablet-style, you can alternatively choose to run and use a mobile emulator.
Create Macros and Custom Mapping For Games
This tool has various advanced options for creating a custom mapping for games that you are playing. For that reason, on the screen, you can place buttons for shooting, set the gameplay view based on the graphics of the game, etc.
This program also allows the creation of macros which is important when playing games that are more advanced and thus rely on the sensitivity of the tilt, push, drag, or click. This option is important if the mapping options do not work for your particular game.
This emulator also comes with a native screen recorder which is important for showcasing an app or gameplay recording and sharing it on social media platforms. However, note that the screen recorder does not incorporate the use of keyboard shortcuts. As a result, you have to rely on the use of the menu of the screen recorder for stopping or starting screen records. If you had become used to excellent keyboard shortcuts found in screen recorders of other Android emulators, then you may encounter some difficulties.
LDPlayer also supports the installation of APK files if an app is not found on the Play Store. The App button lets you not only browse on your PC but also install the APK files into this particular emulator. Thus, even if you encounter an app that is not available in the LD Store, it is still possible for you to download and install its APK files into this emulator.
Read More: Bliss OS Emulator System Requirements for Windows & Android
[su_table]
Pros
Cons
Simple interface
Large Download Size
Easy app installation
Crashes PC sometimes
Plays a lot of games
Slows down device
Has comprehensive tips on their website
[/su_table]
LDPlayer System Requirments
Minimum System Requirements
Intel or AMD CPU Processor x86 / x86_64

Windows XP XP3 / Win7 / Win8 / Win8.1 / Win10

Windows DirectX 11 / Graphics driver with the OpenGL 2.0

Minimum 4GB of system memory (RAM)

Minimum 36GB of free hard disk space

Hardware Virtualization Technology (Intel VT-x/AMD-V) enabled in BIOS
Recommended Specifications for LDPlayer
CPU: Intel i5 7500

RAM: 8GB

Disk Space: 100GB

Graphics Driver: NVIDIA GeForce GTX 750 Ti
Latest Versions of LDPlayer
[su_table]
| | |
| --- | --- |
| Latest Version: | LDPlayer 4.0.27 LATEST |
| Requirements: | Windows 7 64 / Windows 8 64 / Windows 10 64 |
| Author/Product: | LDPlayer Team / LDPlayer |
How to Download LDPlayer
If you want to download LDPlayer for PC, go to the official website of the emulator. On the website, you will see a yellow button labeled Download LDPlayer. Click the download button for it to be downloaded on your computer.
How to Install LDPlayer?
The APK is a lightweight application that can be very quickly installed on modern versions of Windows. To take full benefits of the capabilities of this emulator, developers of this app recommend users check out their extensive tutorials and FAQ sections on the official website. This virtual help can provide them with the best way of ensuring the smooth rendering of games, tutorials on how to optimize games to run at smooth 60fps per second and more. As with any gaming emulator, strong PC hardware is a bonus, but it is important to check that LD Player can easily handle many 2D-based Android games on older PCs or laptops.
Read More: GameLoop Emulator System Requirements for Windows & Mac [2021]
Customization screen of the features 4 main tabs (Basic, Advanced, Properties, Network, and Shortcuts) where you can tweak all the settings which are necessary for the smooth operation of both this app and the emulated software. Advanced tab is much important because it houses the configuration of the currently active rendering resolution (several presets for Tablet and Mobile resolution, as well as support for your own custom resolution), number of active CPU cores, and amount of RAM accessible by the LDPlayer emulator. In the Properties tab you can set up identification strings, essentially telling online servers which mobile device you are trying to emulate. Basic tabs hold tools for auto-rotation, fixing windows size, root permission, microphone support, Language selector, and more.
Like other emulators, It also has built-in support for creating custom mappings and macros, which will enable you to map finger taps, flips, multi-touch events, and more on your keyboard and mice.
1. When the download has been completed, you are required to then click on the LDPlayer installation icon,ldpinst.exe. With the ldpinst.exe icon pressed on, it will now open and display an installation or setup screen. For the installation to be started, you have to click on the button labeled Install Now.
2. Copying of game engine and emulator files. The status of the installation is shown in the progress bar in terms of percentage. You have to be patient until the installation status reaches 100%.
3. Installation Success. Once the installation has been completed, a message labeled Installation Success is displayed. You then click on the Try it now button. When LDPlayer loads for the first time, it will take a bit of time. Once the loading is over, you can go for start installing and using your favorite games and apps on the emulator.
LDPlayer FAQ's
Q: Is it safe to play PUBG Mobile on LDPlayer?
A: An Android emulator is used for running Android apps/games safely on your computer and your PUBGM account won't be blocked for using the emulator. LDPlayer is just one of the best emulators.
Q: Is it fair to play PUBG Mobile on PC?
A: In order to ensure fair gameplay, PUBG Corp said that players on emulators will only be matched with one another and not with players on mobile devices.
Q: Why PUBG Mobile is not working on my emulator?
A: Don't panic if you can't play PUBG Mobile on LDPlayer. There might be some problems with your emulator settings or your computer. You can report your issue on LDPlayer's official Facebook and the staff will help you out.
Conclusion
Having looked at the different features and functions of this emulator and its pros and cons, it is without a doubt an impressive option for you to use on your PC. It is possible for you to use multiple accounts for simultaneously playing multiple games.
However, note that this ability greatly depends on the capability of your PC hardware in handling multiple instances of gaming. While this relatively new emulator can get the job done, its developers have continued to consistently introduce new features through updates and fix glitches and bugs affecting gameplay.