Remix OS Player System Requirements – How to Install and run Android apps
Remix OS Player Android Emulator is basically an Android emulator for Windows computers that offers the most immersive Android experience on a PC. This Android Marshmallow-based software tool uses Android Studio technology, and developers have already been using this tool for testing Android applications and games on PC.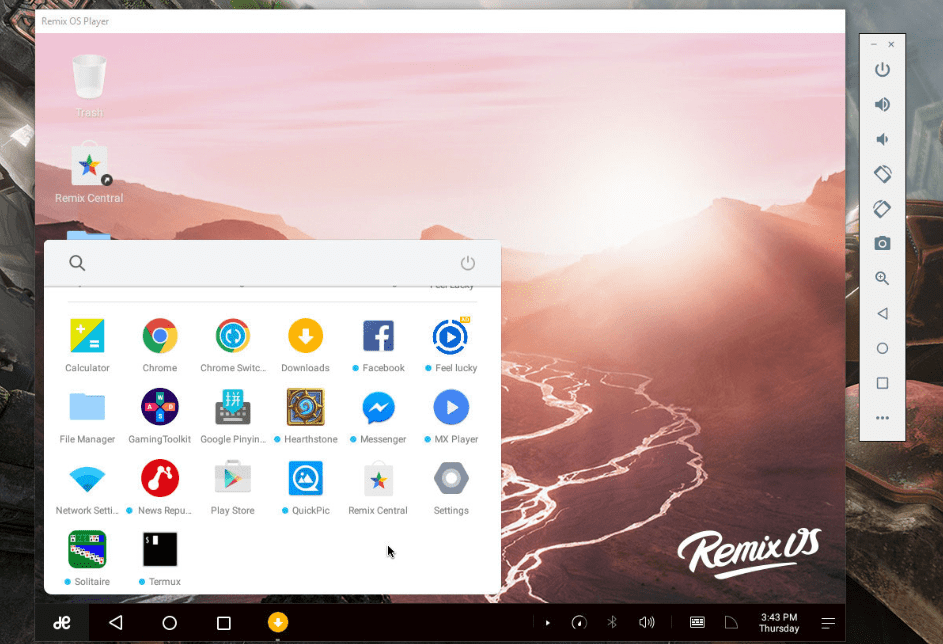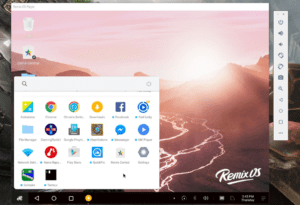 Why are you still emulating on KitKats and Lollipops? Remix OS Player is based on Android Marshmallow and is the most up-to-date emulator on the market. Don't emulate like it's still 2014. Enjoy the latest games and apps that Android has to offer.
For all you hardcore gamers out there, the app is the only Android emulator that allows you to play multiple games at the same time. Push your gaming abilities to the limit by managing several games simultaneously on one screen or have your favorite chat app open adjacent to your game to seamlessly talk smack to your opponents. How you choose to multi-task is up to you.
Features
Talking about features, here are some of the main highlights of Remix OS 2.0.
Multi-tasking
Taskbar
Start Menu
System Tray
Right0side verticle notification bar (similar to Mac OS X)
Keyboard shortcuts like Ctrl+S, Ctrl+C, etc
Right-click mouse features
Linux like File Manager
Compatible with Microsoft Office (thanks to MS Office's Android version)
Install apps via Play Store
OTA updates
There are a few different features that set Remix OS Player apart from all other mobile emulators. This program is compatible with almost every game in the Google Play market, and you won't have to worry about altering dozens of settings whenever you download a new title. Remix OS Player is also one of the only emulators that let you play multiple games at once. If you are a fan of competitive "castle building" games, then you know just how important it is to have multiple accounts running at the same time.
Read More: Remix OS Player System Requirements – How to Install and run Android apps
System Requirements for Remix OS Player Android Emulator
You can grab Remix OS Player now by heading here. In addition to Windows 7 64-bit, the system requirements include an Intel Core i3 processor or equivalent, 4GB of system memory, 8GB of storage, and the Virtualization Technology feature enabled in the system's BIOS.
A USB 3.0 flash drive that supports FAT32 format, with a minimum capacity of 8GB and a recommended writing speed of 20MB/s.
A PC with a USB legacy boot option.
Remix OS Review
Have you been searching for a free way to bring Android to your PC or laptop? Jide Technology's Remix OS might be the answer. Their latest creation, Remix OS, can operate on just about any computer or virtual device.
Remix OS Background
Remix OS was derived from Android-x86, an open-source project that allows Android to function on regular PC hardware. Remix OS provides a system for windowing that makes the operating system much more intuitive. You will enjoy running this software on your PC. You can also put Remix OS onto a USB drive and boot it up on the go. The USB drive even allows for the saving of your personal settings and files. You can think of the USB drive Remix OS like a Linux live system of sorts.
Read More: Xamarin Android Emulator Player System Requirements
Remix OS Fundamentals
The software's start menu features browser, contacts, calculator, downloads, file manager, settings and so on. Jide also offers an array of apps that were built specifically for the Remix OS. You will find them in the Jide marketplace. The Google Play store functions as it should. All in all, Remix OS is the desktop edition of Android. In technical terms, it is a fork of Android. To be more specific Jide relied on the open-source version of the OS and reconstructed it with different codes for the settings, interface, and beyond.
Latest Versions of Remix OS Player
Remix OS Player 1.0.110
Date released: 29 Nov 2016 (3 years ago)
Remix OS for PC 64-bit Package (EFI – Legacy)ANTIVIRUS0 / 0VERSION3.0.207SIZE1 GBFILESignature
Remix OS for PC 32-bit Package (Legacy Only)0 / 03.0.207850.2 MBSignature
Remix OS RemixOS-Player0 / 01.0.110744 MBSignature
Remix OS Pixel C0 / 0Marshmallow618.2 MBSignature
Remix OS Nexus 90 / 0
How to Download Remix OS Player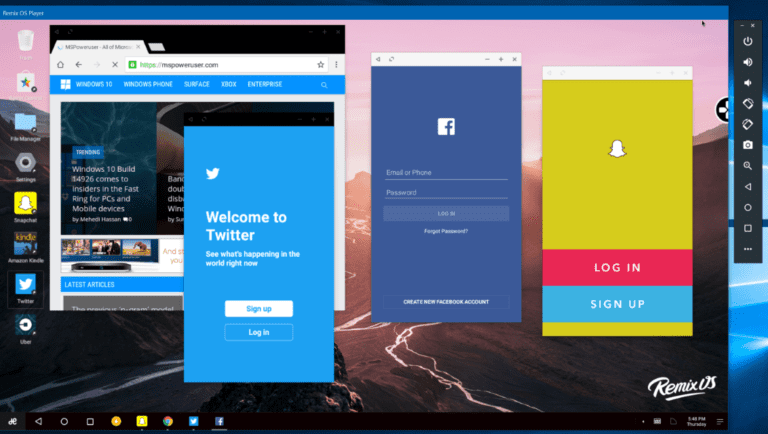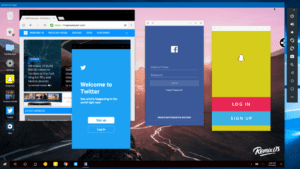 Remix OS Player unlocks access to other Android apps as well. Instead of opening up your browser or a separate app, you can quickly back out of a game to read your emails, check your calendar, or start your favorite playlist.
This software is updated regularly, and that means it is compatible with the vast majority of games and apps that are currently on the market. Remix OS Player only takes a few moments to download, and you will be playing your favorite mobile games on your PC before you know it.
Installation of Remix OS Player
Follow the steps below to install the Remix OS Player on your PC:
Run the download package and extract files to a preferred location.
Launch 'Remix OS player' from desktop shortcut.
Click Start, (Or check advanced settings if you want to customize RAM, resolution and CPU settings).
Select your language and follow on-screen instructions.
As the desktop screen appears to you, it means you've successfully installed the Remix OS Player.
Install and run Android apps
By default, there are few Android apps pre-installed in the player, such as Facebook, Chrome, and File Manager. If you want to download more apps, let's activate the Google play store and services first.
Open the Windows-like corner menu in the player, and click on the 'Play activator' app. Activate Google Play services and let's Remix OS automatically activate all services. The play store icon will now appear on the player's desktop.
Open the Play store app and add a Google account. When you reach the play store home, search, or select any app and simply click the install button. All newly installed apps appear on your desktop screen.
If you want to uninstall any app, go to settings > apps and uninstall apps just like an Android phone.
Read More: YouWave Emulator Requirements for Windows Android
Remix OS Player Emulator Set-Up
Remix OS is a free Android version made by Jide, the company behind this operating system. This OS comes with certain basic Android features adding some missing functions that are present for Mac and Windows users.
You can find a windows interface, mouse and keyboard support, a system bar and file manager, etc. Obviously, it also has other 3rd party installed apps. Theoretically, you should be able to install this OS on most popular laptop brands, but support for more machines is being added with each new version.
FAQ's
Is Remix OS still available?
Remix OS, the Android Desktop OS, Is Discontinued. Despite plenty of hype and potential around it, today brings word that Remix OS is discontinued. Remix OS for PC, which is based on the work of the Android x86 project, also boasts full local installation, UEFI support, and (until now) OTA updates.
Can Remix OS run Windows programs?
Now, they've made Remix OS available to download, and you can run it yourself on practically any computer or virtual machine. Remix OS is based on Android-x86, an unofficial open-source project that ports Android to run on standard PC hardware.
What is the latest version of Remix OS?"]OS family Android?
Working state Discontinued
Source model Closed source with Free software parts
Latest release 3.0 for ARM devices, 3.0.207 for PCs / November 25, 2016
Why is Remix OS discontinued?
RIP: Remix OS Is Discontinued. Short Bytes: Remix OS, the Android operating system for the desktop, has decided to discontinue all its current offerings to the consumers. However, as it turns out, Jide, the developer of Remix OS, has decided to pull on Remix OS.