Droid4x Emulator System Requirements for Windows & Mac
Droid4X Android Emulator is a freeware Android emulator application: A virtual Android emulator for the PC which can play games, control other Android devices, and access the Google Play Store. The download is available as an EXE file and the latest version is 0.11.7 Beta.
Droid4x is an Android virtual machine/simulator that runs as a guest operating system on your PC or your Mac. It is a full, working Android operating system with networking (wi-fi), Google Play Store, and functional apps. You can play games, install apps, configure settings, test your apps, navigate the system, and anything else you can do with an Android device.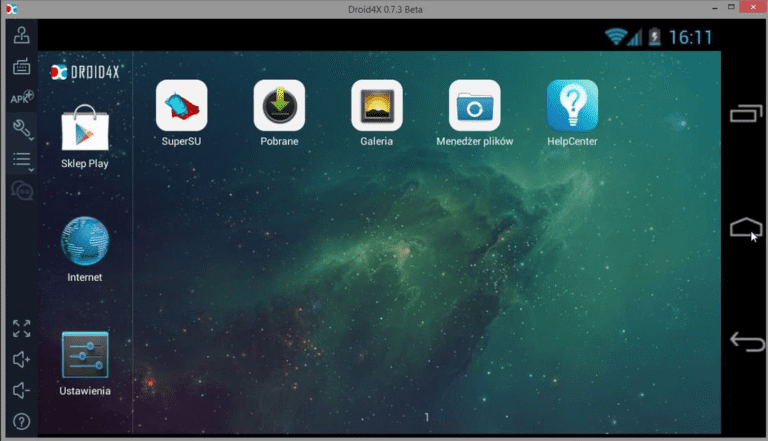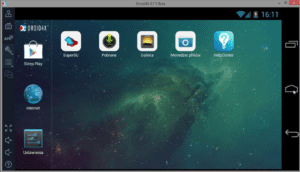 Android developers should connect to droid4x.com right now and download this little gem before everyone finds out about it. The good people at Haiyu Dongxiang Co., Ltd. call Droid4x a simulator or an emulator, but to me, it is an Android virtual machine that basically brings you a virtual Android tablet or phone interface right to your computer. You can even download a virtual controller for your Android or your iOS devices from the site to swipe and tap test your apps and games with too.
Its a most convenient and powerful Android emulator which lets you record emulator screen. Like you can record your Pc screen while you are using the android app or you can take screenshots as well. It is best for playing android games on a large screen of Pc and Mac laptops. You can configure your gamepad or keyboard which help you play any of your favorite android game more easily.
Read More: LDPlayer System Requirments – How to Install LDPlayer?
Moreover, Droid4X allows you to download any android app directly. And allow you to create and customize personalized controls as well. And if you have a touch computer this emulator will be more useful for you because it has adaptable touchscreens. Overall a great emulator for emulating any android app on PC Windows and Mac Laptop.
Droid4X
Features
Better android experience
Droid4X provides you with a better Android experience on an emulator. It is fast smooth and can perform every basic function of an Android device which is magnificent.
It is adaptable to touchscreen laptops and desktops and provides better work experience on touch screen devices without any lags and crash.
Keyboard and controller configuration
You can configure you a gaming keyboard or a controller according to your requirement in droid4x for a better gaming experience. Just go to the settings and set the desired controls and enjoy gaming on the droid4x emulator.
It is compatible with every game and app available on google play store. Games like pubg, asphalt 9, clash of clans and brawl stars, every game works smoothly on droid4x.
Download apps through the emulator
You can either download an application or game within the droi4x emulator or manually download the apk from a third-party client and unpack it in the emulator.
Fast, reliable and free to use
It performs smoothly on i3 processors. Also, it is quite reliable and easy to use if you don't have an android phone because of some reason.
Droid4x emulator works on all version of windows no matter it is an older version of windows 7, windows 8 or windows 10. It is coded in such a way that it works in every version of windows.
| Pros | Cons |
| --- | --- |
| Flip easily between Windows an Android OS with ease and no performance degradation. | Win 10 sleep mode issues |
| Drag and drop to install or use the apps store or run .apk apps directly to install. | Windows Only |
| Use your smartphone to remotely control your Droid4X games (or customize your keyboard)! | Gyro sensing not working |
| Very responsive touchscreen for great gameplay | The default home screen is not customizable |
| Amazing graphics | |
System Requirements
Software Requirements for Droid4x
These are software requirements that are needed to run Droid4x. You might install these so that Droid4x could run properly.
Net Framework
Direct X
Microsoft Visual C++ Redistributable Package's (2008,2010,2013)
32bit/64bit Operating System
Hardware Requirements for Droid4x
Minimum Requirements
Minimum A Dual Core CPU supporting virtualization technology
32bit/64bit System
1GB Ram
Graphics Chipset/Graphics Card supporting at least Open GL 2.0
Recommended Requirements
High-End CPU with virtualization
64bit System
4GB Ram ( Higher is Better)
Dedicated Graphics Card – ( For running Droid4x smoothly High-End Graphics are much preferred)
Droid4X Latest Versions
| Versions | Released Date |
| --- | --- |
| Droid4X 0.11.1 | 20 Jan 2019 |
| Droid4X 0.11.0 | 06 Oct 2018 |
| Droid4X 0.10.7 | 30 Aug 2018 |
| Droid4X 0.10.6 | 03 Jun 2017 |
| Droid4X 0.10.5 | 27 Feb 2017 |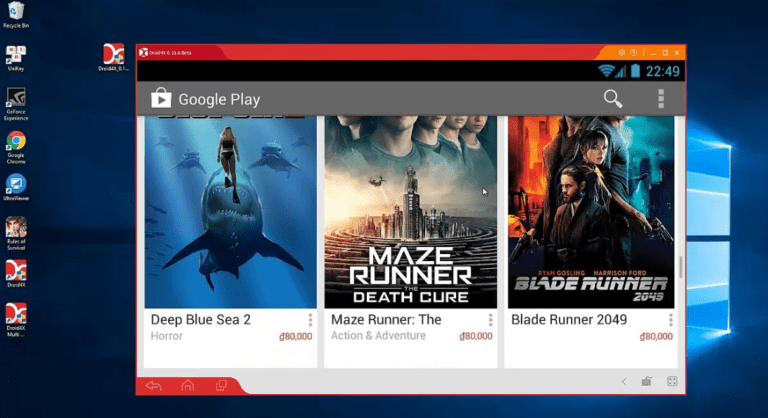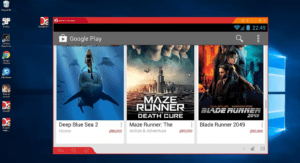 How to Download Droid4X
From Droid4X you're now able to record video files of anything happening on the emulator screen, you even have the option to toggle image quality settings any way you want. One thing though, your video will have a Droid4X watermark.
Another very interesting option is customizing controls. When you run an app you'll be able to create personalized controls simply and intuitively. In less than a minute, you'll have to configure your keyboard or gamepad so that it'll adapt to literally ANY video games on Android.
Read More: Phoenix OS System Requirements – How to Install Phoenix OS?
Installation of Droid4X Android Emulator
Step 1. First, for download, the Droid4X offline installer from the below link Here.
Step 2. Download the 257 Mb complete setup file to your computer. Now click on the downloaded file to start the installation process. Just go on clicking next to finish the installation of the software.
Step 3. Just Follow All Steps to complete the installation.
Step 4. After clicking on the finish option, Droid4X Android Emulator will open in your Windows 7/9/10 Computer.
That is all you have to do guys to download and install Droid4X Offline installer in your windows computer now enjoy playing all the android games and use all the useful Android apps, for example, Instagram, WhatsApp, Hike on your windows computer.
Droid4X Emulator Set-Up
This download is licensed as freeware for the Windows (32-bit and 64-bit) operating system on a laptop or desktop PC from mobile phone tools without restrictions. Droid4X 0.11.7 Beta is available to all software users as a free download for Windows 10 PCs but also without a hitch on Windows 7 and Windows 8.
Read More: Nox Player Android Emulator System Requirements & Features
Compatibility with this Android emulator software may vary, but will generally run fine under Microsoft Windows 10, Windows 8, Windows 8.1, Windows 7, Windows Vista and Windows XP on either a 32-bit or 64-bit setup. A separate x64 version may be available from Droid4X.
Droid4X FAQ's
What is droid4x?
Droid4x is an Android virtual machine/simulator that runs as a guest operating system on your PC or your Mac. It is a full, working Android operating system with networking (wi-fi), Google Play Store, and functional apps.
What is the best Android emulator for Windows 10?
Best free Android emulators for Windows 10 [UPDATED] 1. Bluestacks. 2. Nox. 3. MeMu. 4. Remix OS Player. 5. Droid4X. 6. AMIDuOS. 7. Windroy. 8. Genymotion.
How can I play Clash of Clans on my PC?
Step 1: Download BlueStacks. Step 3: Open the Blue Stacks file that you just downloaded on your PC's desktop. Step 4: Install Clash of Clans. Step 5: Once you finish downloading COC using BlueStacks, you can begin playing Clash of Clans on PC with all your friends.
How can I run Android apps on Windows?
Go to Bluestacks and click on Download App Player. Now open the setup file and follow on-screen instructions to install Bluestacks.
Run Bluestacks when the installation is complete. Now you'll see a window in which Android is up and running.
Is using BlueStacks illegal?
Yes, Bluestacks is completely safe. 370+ Million users Trust and Use Bluestacks for PC Gaming. Wait If you want to know more about Bluestacks and their security.
Can you install Android on a PC?
Based on the Android Open Source Project, Android-x86.org set out to make stock Android available to anyone with a PC. Alternatively, you can install Android-x86 to a Virtual Machine, such as VirtualBox, giving you access from within your regular operating system.
Can you install Android on a Windows tablet?
Meanwhile, the process of installing Android on your Windows tablet differs from device to device. However, the general approach is the same. Windows 8 tablets are desperate for an upgrade to a usable operating system. For many, Android is the only way to keep using old but perfectly adequate tablet hardware.
Can you install Android on a laptop?
Now you can run Android on your netbook or laptop. Whether you want to play with Google's mobile operating system or give new life to an otherwise discarded device, Android-x86 gives everyone a way to install Android on Intel-based computers. It's fast.
Can you run Android apps on Windows 10?
Microsoft announced a new feature for Windows 10 today that will let Android phone users view and use any app on their device from a Windows desktop. The feature, which Microsoft is referring to as app mirroring and shows up in Windows as an app called Your Phone, seems to be work best with Android for now.
Which Android emulator is best for Windows 10?
Top Free Android Emulator for Windows 10 (1.) BlueStacks. (2.) NOX Android Emulator. (3.) MeMu Play. (4.) Android Studio. (5.) Remix Player. (6.) Droid4x. (7.) AMI Duos. (8.) Genymotion.