BlueStacks Android Emulator is an American technology company that produces the BlueStacks App Player and other cloud-based cross-platform products. The BlueStacks App Player is designed to enable Android applications to run on PCs running Microsoft Windows and Apple's macOS. The company was founded in 2009 by Jay Vaishnav, Suman Saraf, and Rosen Sharma, former CTO at McAfee and a board member of Cloud.com.
Investors include Andreessen Horowitz, Redpoint, Samsung, Intel, Qualcomm, Citrix, Radar Partners, Ignition Partners, AMD, and others.
The company was announced on May 25, 2011, at the Citrix Synergy conference in San Francisco. Citrix CEO Mark Templeton demonstrated an early version of BlueStacks onstage and announced that the companies had formed a partnership. The public alpha version of the App Player was launched on October 11, 2011. App Player exited beta on June 7, 2014.
BlueStacks puts the Android operating system on your desktop. BlueStacks is the first production software that allows you to use your favorite mobile apps on a Windows PC. You can download apps like Angry Birds Space, Temple Run, Evernote, or Documents to Go directly into BlueStacks or sync the apps from your phone using the BlueStacks Cloud Connect Android app. Basically this application is an Android emulator for PC.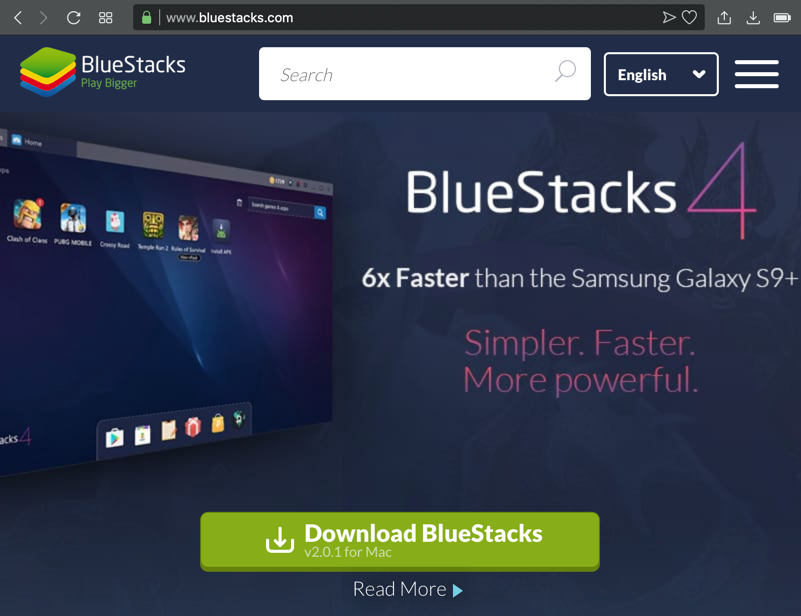 Features of BlueStacks Android Emulator
Android apps fast and full-screen on your PC or tablet
Push apps from your phone to your BlueStacks using our Cloud Connect mobile app
May not work fast yet on older tablets and netbooks
Download apps from Google Play
Comes with pre-installed games and apps
What's New:
macOS version updated to 4.140.12.2902
Create shortcut keys for common actions
Play RPG's using multiple instances and synchronize clicks over all of them
Update BlueStacks to the latest version
Benefit from game compatibility improvements, bug fixes, and performance optimizations
Torque Launcher is a pure android (AOSP) styled launcher. It is tuned to work quickly with smooth animations and has now replaced our existing launcher.
BlueStacks Account with a new login screen (look and feel).
Added the ability to view/mute app notifications.
Added the ability to detect run-time errors in BlueStacks (i.e. RPC error, Black screen, etc.) and fixes them automatically with user's consent.
BlueStacks app player uses the "High Performance" plan when active, and falls back to the user's default power plan upon exiting.
Keyboard fixes: The keyboard stops working the moment we press the ALT key.
AltGr doesn't work for international keyboard layout.
System Requirements for BlueStacks Android Emulator
Minimum System Requirements
OS: Microsoft Windows 7 and above.
Processor:  Intel or AMD Processor.
RAM: Your PC must have at least 2GB of RAM. (Note that having 2GB or more disk space is not a substitute for RAM)
HDD: 5GB Free Disk Space.
You must be an Administrator on your PC.
Up to date graphics drivers from Microsoft or the chipset vendor.
BlueStacks 4 will work on systems that fulfill the minimum systems requirements. However, for a superior gaming experience, Recommended System Requirements are mentioned below.
Recommended System Requirements
OS: Microsoft Windows 10
Processor: Intel or AMD Multi-Core Processor with Single Thread PassMark score > 1000 and virtualization extensions enabled in the BIOS.
Graphics: Intel/Nvidia/ATI, Onboard or Discrete controller with PassMark score >= 750.
RAM: 8GB or higher
HDD: SSD (or Fusion/Hybrid Drives)
Internet: Broadband connection to access games, accounts, and related content.
Up to date graphics drivers from Microsoft or the chipset vendor.
We do not recommend installing the BlueStacks App Player if you have a virtual machine, e.g., Microsoft Virtual PC, VMWare Workstation, or Oracle Virtualbox, installed on the same PC.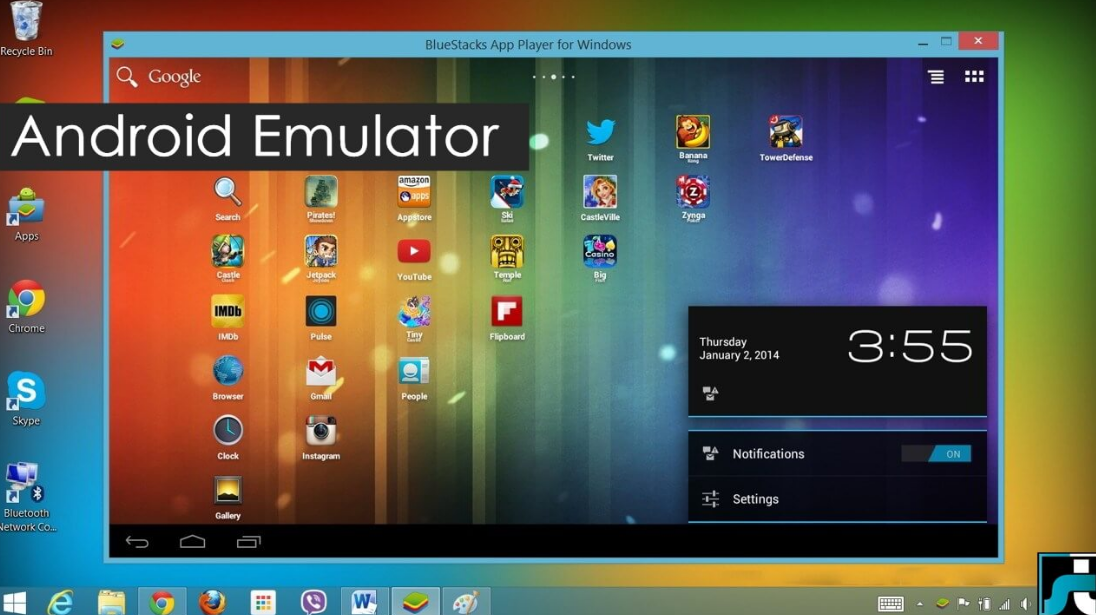 BlueStacks Latest Versions
Bluestacks is a Virtual Android emulator that helps us to install Android Apps on Windows running PCs, Laptops and Mac Os devices. Every one of us is fond of installing and using applications on Android.
There are many applications that are related to entertainment, education, technology, and much more such categories. There are millions of users who use applications like WhatsApp, Snapchat, Instagram and etc., in our day to day life.
Along with that, Android being the user-friendly Operating Systems every one of us are quickly addicted to them and the apps provided by them. Many of us are using these apps on our Android and Windows Phones and Tablets for free, and some of the apps must be purchased. But, in any way we are all addicted to apps in our smart mobiles.
If you have any issues while installing Bluestacks App Player on Windows 10 or Windows 7 then you can also download Bluestacks Alternatives or you can fix bluestacks errors.
You can also read our latest article about Android emulators for both PC and Mac.
Do you know how many other good Android virtual emulators are out there? 
There is more than ten such software available for PCs and Mac OS.
How to Install Bluestacks on Windows 10/7/8 without any errors?
Bluestacks has released a new update on September-15-2018. That is Bluestacks 4. Here are some of the best features of Bluestacks 4.
This version is six times faster than Samsung S9 Plus.
Graphics works better now than the previous versions.
This runs on the latest Android OS Nougat.
Bluestacks 3 rd version Details. (Please be advised that this is an old version, the latest version is 4.50.00.
| NAME | BLUESTACKS |
| --- | --- |
| File Size | 434.12 MB |
| Price | Free |
| Downloads | 10,000,000+ |
| Supported OS | Windows 10, Windows 8, Windows 7, Windows XP |
| Current Version | 3.0.3.63 |
| Language |  English |
Bluestacks App Player Version 4 Compatibility
Bluestacks latest version 4 is compatible with all the below mentioned Operating Systems.
Windows 10 32 Bit
Windows 10 64 Bit
Windows 8.1 43 & 64 Bit
Windows 7 32 Bit & 64 Bit
What is the BlueStacks App Player?
BlueStacks is the software that allows us to download and install Android apps on your Windows Laptop/PC for free. However, it allows you to install free apps on your PC.
I got what you are thinking. Yes, you can install Clash of Clans on PC, WhatsApp for Laptop, Candy Crush Saga for Personal Computer, Shadow Fight 2 for Computer and many more Android apps on your Windows desktop for free. Using BlueStacks online installer is a bit problem when you have a week internet connection and slow internet speed.
By using the BlueStacks Offline Installer for PC, once you are done with downloading the required executable file, you can copy that to any system, or you can install BlueStacks on your PC at any time. Installing the downloaded file does not require an internet connection, and it can't be installed offline.
It is straightforward to download BlueStacks for free, and it is also genuine. After downloading and installing the BlueStacks in your Laptop/PC, you can search and install any free Android app for PC within seconds. Bluestacks can't be copied to any other PC. Now, you can go ahead with installing Android apps directly on your PC.
BlueStacks has built-in Android Apps like WhatsApp, Facebook, Clash of Clans and others which can be accessed directly from the Apps section. This Apps section is the place where you can find installed Apps on Windows 10. It also allows you to access and operate these apps using your mouse and keyboard devices.
If your PC has the touch-enabled feature, then you can even access apps from BlueStacks through touch. It supports all your input devices. BlueStacks is very easy to use, and it is user-friendly such that, it does not need any user guide to make use of it.
Download BlueStacks
STEP 1: First you need to visit the BlueStacks website, and there you can see the blue colored "Download" button. Click on that download button.
STEP 2: It starts downloading BlueStacks in a few seconds. File Size will be around 100 MB, and it takes some time to get downloaded completely. This step needs an internet connection.
STEP 3: Once it gets download completely, double-click on the executable file to start the installation. It takes a few minutes to complete the installation.
STEP 4: Follow the on-screen instructions and install BlueStacks on your PC after completely installing it on your PC, it creates the shortcut on the desktop, and you are ready to use BlueStacks.
Open BlueStacks, and you can search for any free Android app and install it on your PC for free. It is effortless to install any android app on your PC using BlueStacks Offline Installer for PC. Once you open the BlueStacks, it shows you both Top Apps and Other Apps which are by default supported by BlueStacks. You can click on them and install those free Android apps on your PC for free.
Installation of BlueStacks on Windows 10, 8.1, 8 & 7
BlueStacks 4 launched a while ago and is undoubtedly the best Android Gaming Platform for PC. It gives 6X Faster Gaming performance compared to any mobile on earth.
Yes, you read that right. So, if you're a mobile gaming enthusiast, you must try playing your favorite mobile games on PC with the New BlueStacks.
It's as easy as 1-2-3. Here's a quick walkthrough of the Installation Process for Windows 10, Windows 8.1, Windows 8 and Windows 7:
Downloading BlueStacks
• Go to https://www.bluestacks.com/download.html.
• You can either select the installer you want(32/64 bit versions of Android and Windows/Mac) from the options on the right side or let BlueStacks auto-detect the right installer for you according to the OS you are using.
• Once the download has finished, open the downloaded file to begin the installation process.
Installing BlueStacks
• Click on the Install Now button to kickstart the installation process.
• (Optional) You can pick a desired location for the Install by Clicking on the Customize Installation option as seen in the screenshot below.
• The Micro Installer will now download all the necessary files. The great thing about this new way of downloads is that the Micro Installer will continue the download even if it fails the first time around.
• All you need to do now is sit back and enjoy while BlueStacks is automatically downloaded, extracted, and installed. This should take a couple of minutes depending on your PC Specifications.
• The BlueStacks Engine will automatically fire up and you will now be prompted to complete a one-time initial Setup process.
BlueStack Emulator Set-Up
• When prompted, Sign in to your existing Google account or create a new one to get started.
• That's it.  Just search for the App through the Search Bar on the right and install it to start playing.
What's more, is that you can run multiple BlueStacks accounts to play all your favorite games at the same time. Read the BlueStacks Multi-instance guide to know about this feature in detail.
We hope you found this guide useful and easy to follow. Go ahead and install BlueStacks now so you can start playing all your favorite mobile games with the comfort of your PC. Do let us know what you think of the New BlueStacks by leaving a comment below. We love hearing from you.
BlueStacks FAQ's
How to Install Any Android Application in Bluestacks?
Open Bluestacks emulator from the Start menu in Windows OS. Locate the search button and search for your favorite app. You will see search results like in the Google Play Store. After that its the same procedure like in your Android Phones.
is Bluestacks safe for Windows 7 and Windows 10?
Yes, This software is safe in all Operating systems.
Does Bluestack App Player slow down my PC?
Yes, it does slow down PCs. It is because this takes a lot of your Computer processing power.
Is Bluestacks for Windows 8 is Free?
Bluestacks is available as a free version and also as a paid version.
is Bluestacks Android Emulator Legal?
Yes, Using this software is legal in many countries. I am not sure about all the countries.
Does Bluestacks work on Old Laptops?
It depends on the Laptop specifications.
is Bluestacks safe for Windows and Mac Computers?
Yes